H.H. Krishna Kshetra Swami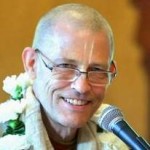 Krishna Kshetra Swami is, since 1972, a disciple of Srila Prabhupada. From 1973 to 1975 he distributed Srila Prabhupada's books and served as a pujari in Amsterdam and Schloss Rettershof, Germany. Between 1977 and 1979 he traveled and preached with Bhakti Tirtha Swami, Harikesha Prabhu, Bhakti Sudhir Goswami, Dvarakesha Prabhu and Devamrita Swami throughout eastern Europe. From 1982 to 1985 he oversaw Lord Nrisimhadeva's worship in Simhacalam, Germany.
In 1987 ISKCON's GBC body appointed him as an initiating guru. Then, up to 1995, he helped compile and publish Pancaratra-pradipa, ISKCON's manual for temple worship. He also served ISKCON's GBC as the minister for Deity worship until 2005.
Amidst these and other services, encouraged by senior ISKCON leaders, in 1995 Krishna Kshetra Swami resumed formal academic study which he had interrupted in 1972, completing a B. A. in Religious Studies (University of California, Santa Barbara), an M.A. in the Study of Religion (Graduate Theological Union, Berkeley), an M.St. (Master of Studies) in the Study of Religion (University of Oxford, U.K.), and a D. Phil. (Ph.D., University of Oxford, U.K.), finishing studies in 2003.
Based on his doctoral dissertation he then published "Attending Krishna's Image: Chaitanya Vaishnava Murti-seva as Devotional Truth" with Routledge Hindu Studies Series. Krishna Kshetra Swami is now a Research Fellow of the Oxford Centre for Hindu Studies. He also acts as the dean of studies at Bhaktivedanta College in Radhadesh, Belgium, where he has been teaching since 2002.
As during several previous years, and now continuing after his taking formal sannyasa vows (Janmastami, 2014), Krishna Kshetra Swami travels extensively for teaching, counseling, and to support spiritual communities in the Vaishnava devotional tradition."
H.H. Bhakti Caitanya Swami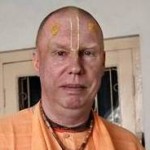 Originally from New Zealand, Bhakti Caitanya Swami joined the Hare Krishna movement in London in January 1973. Srila Prabhupada initiated Bhakti Caitanya Swami later in 1973, giving him the name Raghubir dasa. Twenty one years later in Mayapur, the order of sannyasa was awarded to Bhakti Caitanya Swami who is an initiating spiritual master for many devotees around the world.
Bhakti Caitanya Swami initially served in the Bhaktivedanta Book Trust and also distributed Srila Prabhupada's books from 1973 until 1980. Then he moved to South Africa where, from 1980 to 1982, he served as temple president in the rural community of Cato Ridge. Thereafter he did fund raising for the building of the Temple of Understanding in Durban, which opened in 1985.
From 1985 until 1988 Bhakti Caitanya Swami served as regional secretary for South Africa, and he then participated in an outreach project in Johannesburg from 1988 until 1991. From that time until now, Bhakti Caitanya Swami is mostly engaged in traveling and spreading Krsna consciousness in an authoritative and accessible way. His permanent base is Durban, where his gentle and saintly presence provides stability.
After joining the GBC in 1998, Bhakti Caitanya Swami's assignments have included Angola, Lesotho, Malawi, Mozambique, Namibia, Swaziland, Zambia, Zimbabwe, and Estonia. Furthermore, he acts as co-GBC for Mauritius, Northwest Russia, Eastern Siberia, Western Siberia, Latvia, South Africa, and Lithuania. Bhakti Caitanya Swami has served as chairman of the GBC in 2002-2003 and 2012-2013 and as vice chairman in 2001-2003 and then again in 2010-2011. Within the strategic planning team effort, Bhakti Caitanya Swami is involved in the team building committee.
His special interests include filming, photography, and parikrama (visiting holy places of deep spiritual import). The outcome of these interests can be seen in the impressive series of appealing documentaries of holy pilgrimages in India and festivals around the world and in books such as Vrindavan: The Playground of God, Govardhana the Hill that Fulfills all Desires, and Traveling in the Service of Srila Prabhupada, Volumes 1, 2 and 3.
H.H. Devamrita Swami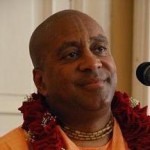 Devamrita Swami was born in New York, USA. After completing his studies at Yale University Devamrita Swami felt unable to pursue a materialistic life, but his Dean firmly asserted, "You are a Yale man; you will influence the world." Shortly afterwards he received Srila Prabhupada's books and made a thorough study of them before joining the temple in 1972.
Devamrita Swami took initiation in 1974 from Srila Prabhupada and devoted his life to sharing his guru's teachings, distributing his books and serving at the BBT. In 1982 Devamrita Swami took sannyas initiation and in 2002 began serving as an initiating spiritual master in ISKCON.
His background in the BBT, especially as chief manager and his difficult years sharing Krishna consciousness in the former Communist Eastern Block countries gave him experience in spiritual leadership that led to his future in the GBC.
A member of ISKCON's governing body since 2001 he has occupied the responsible posts of GBC vice chairman and later, chairman. His current regional responsibilities include Australia and New Zealand, as well as South Africa, and, in the USA, Philadelphia and the Gita-nagari Farm Project. Beyond those areas of spiritual leadership, he travels far and wide, especially in North America, Europe and India.
An author published by the BBT, he has to date written Searching for Vedic India and Perfect Escape. One of Devamrita Swami's areas of expertise is to facilitate contemporary settings for Western audiences to approach bhakti yoga. He enjoys challenging Indian students and professionals to penetrate the veil of religious belief/religious myth; and advocates spiritually based economics, sustainability and environmentalism.
Devamrita Swami's home base of operations is Australia, New Zealand and Gita Nagari.
H.G. Gopal Bhatta Prabhu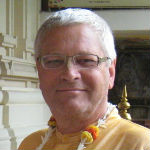 Gopal Bhatta Prabhu joined ISKCON in 1972 and became a book distributor almost at once, and then soon, the sankirtana leader.
He has served in ISKCON as a temple president, has been instrumental in resolving several of ISKCON's major legal issues, consults with the BBT Trustees and Directors, is the co-chair of the GBC Organizational Development Committee, and chair of the GBC Strategic Planning Team. He also runs a successful business that has provided him with insight into good management and strategic planning, and he is using this knowledge to serve Srila Prabhupada's ISKCON.
H.G. Sesa Prabhu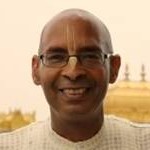 Sesa Prabhu joined ISKCON in 1973 inspired by the political activism of the In God We Trust Party for Purified Leaders, organized by members of ISKCON. He was initiated by Srila Prabhupada in 1974 while he was traveling as a member of the initial Bhaktivedanta Book Trust library party.
He attended the United States Military Academy and later received a degree in political science from the State University of New York, Albany. In 1991 he earned a Juris Doctor degree from the UCLA School of Law.
He served as the temple president of both Washington, DC and Philadelphia PA; as the managing editor of Back to Godhead magazine; and as the North American secretary of the Bhaktivedanta Book Trust. This capacity for responsibility earned him membership on the GBC, which began in 1994. Sesa Prabhu has a portfolio of two ministries: Minister of Educational Development and Minister of Justice, under which ISKCON Resolve works. Sesa Prabhu offers significant resources to ISKCON Resolve with his experience as an Ombudsman.
He is zonal secretary for Gainesville and Orlando, Florida. Currently Sesa Prabhu serves on the following committees: Vrindavan Executive Committee, GBC Constitution Committee, as chair and Education Standing Committee . Sesa Prabhu has also offered his services as a member of the GBC executive committee.
Sesa Prabhu and his wife have two daughters and live in Alachua, Florida, his home base of operations. He regularly teaches ethics at Bhaktivedanta College in Belgium and occasionally writes for ISKCON News.
H.G. Anuttama Prabhu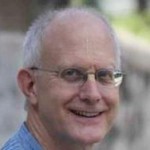 As a student in political and social science at Michigan State University, USA, Anuttama Prabhu found the university incapable to provide answers to the most important questions in life. Thus he chose to not complete his formal education. After exploring varied traditions ranging from Zen Buddhism to Methodism, he ended up in the ISKCON ashrama in Denver, Colorado in 1975 and was initiated by Srila Prabhupada in Vrindavan, India in 1976.
Anuttama Prabhu was soon leader of the local book distribution and later he became president of the Denver temple—the same Colorado ashram he had first joined in 1975. He relocated to Washington, D.C. in 1993. He has been a member of the GBC since 2000 and his geographic assignments are all in the USA: Delaware, Maryland, eastern Pennsylvania, and Washington, D.C. He is co-GBC in West Virginia. His vision for the future of ISKCON is that it will mature and grow to be a respected and influential culture and religion around the world, making significant, measurable contributions to the upliftment of society world-wide.
Besides his GBC zonal duties, Anuttama Prabhu currently serves as ISKCON's International Director of Communications and is on the Board of the Bhaktivedanta College in Belgium. A founding member of Children of Krishna and the Grihasta Vision Team, he is active in several interfaith initiatives in Washington, D.C., including the Religion Communicators Council. Under his direction, the communications office founded the annual Vaishnava-Christian Dialogue and Vaishnava-Muslim Dialogue as well as the North America's Festival of Inspiration. In 2015 he organized the first Vaishnava-Christian Dialogue in India.
Anuttama Prabhu enacts his leadership goals by teaching the following seminars in ISKCON communities worldwide: "ISKCON's Leadership and Management," "Communications Course," "Guru Seminar," "Grhastra Course" and the new "Disciples Course," all of which he helped co-author with teams of senior devotees. He and his wife, Rukmini Devi Dasi, own a business which for many years has been a principal source of revenue for the International Communications Ministry. They live in Rockville, Maryland, close to their son Gauravani, and their three grandchildren. They attend the ISKCON of Washington, D.C. Temple.
H.G. Devakinandan Prabhu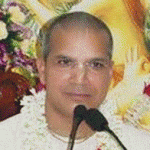 Devakinandan Prabhu joined ISKCON in 1976 when 17 years old. In 1978 he came to Mumbai and since then has rendered various services there as Temple Commander, General Manager, Vice President and President. He started the Sri Sri Radha Rasabihari Committee in ISKCON Juhu in 1991 and played a critical role in building the Heaven on Earth Project on Hare Krishna Land. He has also served as Temple President of ISKCON Vrindavan temple.
Presently he is serving as the Zonal Secretary for U.P., Rajasthan, Vrindavan and Mumbai. He is also one of the Directors of ISKCON Moscow; a Trustee of ISKCON Society; Chairman of ISKCON Foundation (Fund Raising) and Global GBC Minister for Fund Raising/ Development.. He is also managing the new ISKCON temple of Sri Sri Radha Madhava in Kanpur, UP and has started four new preaching centers in Rajasthan at Jodhpur, Bikaner, Ajmer and Bhilwara.
Devakinandan Prabhu is well known for his Srimad Bhagavatam classes and over the last few years he is giving discourses in cities such as Varanasi, Allahabad, Jaipur, Jodhpur, Bikaner, Bhilwara and Mumbai etc. He also speaks on the Atma programme on Star Plus and Colors Channel.
H.H. Yadunandana Swami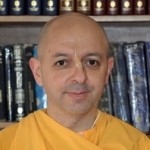 Yadunandana Swami is an initiated disciple of Satsvarupa Dasa Goswami and a sannyasa disciple of His Holiness Jayadvaita Swami, who are both disciples of Srila Prabhupada.
He joined ISKCON in 1977 in Spain and has performed leadership and educational services in ISKCON since 1982. The latter include ministering spiritual education and counseling to many persons; teaching scriptural, academic, and vocational courses; and lecturing in more than twenty universities. Apart from his services in education, he is also active in interreligious dialogue.
He holds a MA in the Study of Religion from the University of Wales. He is the Rector of the Instituto de Estudios Bhaktivedanta in Spain and was the Principal of Bhaktivedanta College since its opening in 2002 until May 2014. .
Presently he is committed to a project that aims to propagate Krishna consciousness in the 52 provinces of Spain.
H.G. Krishna Chandra Prabhu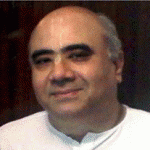 Krishna Chandra Prabhu is a disciple of Radhanath Swami and got introduced to the principles of spirituality in the early 1980s. Since 1986 he along with his good wife Radha Priya mataji and three children have made many significant contributions to the congregation of the ISKCON Chowpatty temple and to society at large. He and his wife helped in the establishment of the counselor system at the temple in the late 1980s and since then have been serving as counselors for the congregation.
He is the Chairman of the trustee board of Bhaktivedanta Hospital and Gopal's Garden High School and is also involved with ISKCON Govardhan Eco Village. He and his wife are core team members of the marriage board at the Radha Gopinath temple and also part of the grhastha board.
He is also the Chairman and Chief Executive of the Arvind Mafatlal Group of Companies (AMG). He has an Honors Degree in Commerce (1975) from the Sydenham College, Mumbai and in 1993 attended the Advanced Management Program (AMP) at the Harvard Business School. He is a past President and now a Managing Committee Member of The Millowners' Association, Mumbai (MOA). He was a Member on the Board of Governors of IIM Ahmedabad for 12 years (1995 – 2007) and a Vice Chairman of The Cotton Textiles Export Promotion Council (TEXPROCIL). He is a Trustee of the Shri Sadguru Seva Sangh Trust as well as the Chairman of the Board of Trustees of BAIF Development Research Foundation.
H.G. Keshava Prabhu

Keshava Prabhu is the son of Sri Nathji prabhu and has grown up in a Krsna conscious environment. He is a disciple of Radhanath Swami and has been rendering various services to ISKCON Chowpatty. He is currently serving as a board member of the ISKCON Govardhan Eco Village Project. He is also one of the founder members of the Artha Forum which is dedicated to connecting entrepreneurs, professionals and business leaders and bringing to them the relevance of ancient wisdom and literature in modern business
He is currently the Managing Director of Apar Industries Ltd. He is also the co-founder and a board member of Apar Technologies. He possesses a degree in Electrical Engineering and a Business Degree from Wharton School of Business.
H.G. Vrsabhanu Prabhu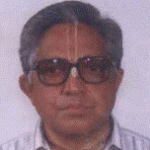 Vrsabhanu prabhu came in contact with ISKCON in 1992 along with his late wife Kirtida mataji. He is a disciple of Radhanath Swami and is part of the grhastha asrama committee of ISKCON Chowpatty, helping bring out a grhastha manual in 2003. He is a counselor and has been associated with preaching programs and visiting places like Nasik, Belgaum and Kolhapur. He is also leading the Varistha Vaisnava Committee of ISKCON Chowpatty for the last 13-14 years.
He was a Professor of Chemistry in the University of Mumbai. By the time he retired in 1999 he had guided more than sixty students, with thirty two of them completing their PhDs and the remaining their MPhil and MSc. He had published several papers in international scientific journals and in 1999 he also received the Maharashtra State Award for best university teacher. He was also a member of several academic bodies.
Currently he lives in Mumbai. His two children Sridama Sakha Prabhu and Radharani mataji are both initiated devotees and are serving as counselors in ISKCON Chowpatty.
H.G. Radha Giridhari Prabhu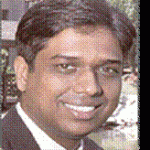 Radha Giridhari Prabhu is a disciple of Radhanath Swami and has been connected to ISKCON for more than 25 years. In his earlier days he was actively involved in college preaching in Mumbai and over the years he has helped with various projects of ISKCON Chowpatty. He is one of the founder members of the Artha Forum (www.arthaforum.com) which is dedicated to connecting entrepreneurs, professionals and business leaders and bringing to them the relevance of ancient wisdom and literature in modern business. He is also a board member of the ISKCON Govardhan Eco Village Project.
He has more than 23 years of global operating and investing experience in the U.S., Asia and Europe. He was the Co-Founder and CEO of Apar Infotech which was started in 1996 and merged with Ness and listed on Nasdaq in 2004. He has been a venture capitalist and private equity investor since 2006 (www.basilpartners.com). He has been an investor and active board member in companies like GAVS, CIGNEX, Servion, Accion Labs, Relevance Lab, Tech Endeavour & Netscribes. He has grown most of his companies through organic and M&A strategy and has also guided six of his companies through successful exits. He holds Bachelors in Engineering and Masters in Management Studies degrees from Bombay University.
H.G. Radhika Ramana Prabhu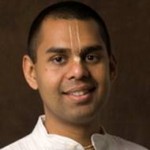 Radhika Ramana dasa (Dr. Ravi M. Gupta) holds the Charles Redd Chair of Religious Studies at Utah State University. He is the author or editor of four books as well as numerous articles published in academic books and journals. He has received three teaching awards and two research fellowships.
Radhika Ramana completed his PhD on the Sandarbhas of Srila Jiva Gosvami from Oxford University. His first book, The Caitanya Vaisnava Vedanta of Jiva Gosvami, is a detailed study and translation of Jiva Gosvami's commentary on the first 5 sutras of the Vedanta Sutra. More recently, Radhika Ramana co-authored (with Krsna Ksetra Swami) a book on the Srimad Bhagavatam for Columbia University Press. In 2008, he had the opportunity to meet with Pope Benedict XVI on behalf of the Hindu American community. Radhika Ramana grew up in Boise, Idaho, where his parents homeschooled him using a curriculum based on Srimad Bhagavatam. He is a disciple of H.H. Hanumatpresaka Swami.
H.G. Ajay Piramal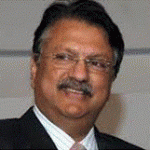 Born in 1955, Ajay Piramal is one of India's leading industrialists, philanthropists and social entrepreneurs. He heads one of India's largest business groups, with activities in healthcare, real estate, financial services, information services, and glass packaging. The Piramal Group has operations in the UK, US, Germany, Sri Lanka, Japan, Hong Kong and India and their products and services are sold in over a hundred countries.
In the social sector he has established the Piramal Foundation which has created breakthrough initiatives like 'Sarvajal' (Piramal Water), Pratham, Piramal Swasthya, Piramal Udgam and Piramal Foundation for Education Leadership. All these initiatives have made a positive difference to millions of people in healthcare services, rural education, portable water, livelihood creation & youth empowerment.
Mr Piramal has won several global awards in recognition of his philanthropic work, including the Forbes Philanthropy Award in the Outstanding Philanthropist category in 2013 and 2014. He was selected as a Global Leader of Tomorrow by the World Economic Forum before he was forty and was awarded 'Entrepreneur of the Year', UK (2006) as well as 'CEO of the Year Award' by the World Strategy Forum.
He has been associating with ISKCON for many years and has been on various conferences and programs with Radhanath Maharaja. His Piramal Foundation is a constant source of support for ISKCON Food Relief Foundation, Annamrita.