H.H. Romapada Swami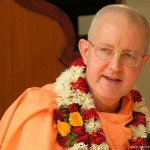 Romapada Swami's first encounter with Krishna consciousness came in Buffalo, in the shape of a lecture at the State University of New York in 1969. The lecturer was His Divine Grace A.C. Bhaktivedanta Swami Prabhupada. The following year, Romapada Swami joined the movement in Boston and was initiated in 1971. Despite being admitted as a pre-med student, he decided to follow his spiritual path 100% and never looked back. He took sannyasa in 1983 and became an initiating spiritual master in 1985. In 1992 he began serving as a member of the GBC.
His devotional career began with management, first as president of the Manhattan temple (1977-78), then as regional secretary for New England (1979-82), and then again as president of the Brooklyn temple (1982-83). From 1996 up to 2008, he served continuously as a member of the North American Executive Committee (NA EC), and he was the chairman of the GBC EC in 2009-2010. Romapada Swami has GBC zonal assignments in New York, New Jersey and the Midwest of the USA. Inspired by his experiences wherein GBC members regularly shared their daily meeting deliberations with the devotees present in Mayapur, Romapada Swami regularly shares with ISKCON audiences the extensive progressive work which the GBC is currently performing to strengthen the future of the Society, and he tries to actively involve capable people to participate in the dynamic strategic planning work of the GBC.
In his efforts to share Krishna consciousness with others, Romapada Swami draws on the benefits he himself gained from the University outreach programs he attended in the 1960s. Thus, he continues to encourage programs that fulfill students' spiritual needs. He has spearheaded the creation of numerous Krishna-conscious student organizations in reputed institutions such as the Massachusetts Institute of Technology, the University of Illinois at Urbana Champaign, and Penn State University, to name but a few. Bridging the gap between secular society and inner life, Romapada Swami conducts presentations on topics such as "Stress Management," "Spiritual Economics," and "Science and Spirituality" within the US corporate sector. Some of the companies in receipt of his training are Intel, Microsoft, Lucent, Cisco and Fanny Mae. Programs for youth and children are very important to Romapada Swami, as Devotee Care is one of his areas of concern. He has actively inspired Soul Connection youth groups in Chicago and St Louis, along with two youth Gita summer camps in the Chicago area. Under Romapada Swami's guidance, congregational groups of devotees of Krishna have grown in many places in the US and abroad, including Chicago, Washington DC, St. Louis, Seattle, Detroit, New York, New Jersey, Houston, Orlando, Tennessee, Boston, Hyderabad and Guyana.
H.H. Radhanath Swami

Radhanath Swami was born in Chicago, USA. In his teenage years, he embarked on a journey of discovery of the world and religion that ultimately led him to India where he met Srila Prabhupada in 1971 and embraced his teachings. Initially serving in India, Radhanath Swami returned to the USA where he served at a West Virginia farming community and was initiated by Srila Prabhupada (1973).
In 1979, he left his pujari service and caring for cows at the farming community to pioneer educational programs in colleges and universities in the United States. Radhanath Swami took the vows of sannyasa in 1986 and returned to India. His major efforts in India have resulted in the large community and temple in Chowpatty, Mumbai, and the ISKCON Belgaum temple. Other programs of sharing Krishna consciousness are currently successful in Kolhapur, Nasik, Aurangabad, Nigdi and other centers in the Maharastra state of India.
Radhanath Swami became a member of the GBC in 1996, and is responsible for the following zones: Villa Vrindavana, Firenze area, Centro Studio Bhaktivedanta, Bologna area, and Venice area Italy; and in India; Chowpatty, Mumbai, and Maharastra. In his role as co-zonal secretary he supports Goa, Daman, Diu, Maharashtra, and Calcutta in West Bengal.
Radhanath Swami has a special interest in the holy places in India and leads thousands of devotees on pilgrimage each year. Radhanath Swami is a trustee of Bhaktivedanta College, Belgium, by providing his spiritual support and encouragement. For the past twenty-five years, besides guiding the development of the ISKCON Chowpatty community in Mumbai, Radhanath Swami has directed a number of acclaimed social action projects including Midday Meals, daily serving over 250,000 plates of pure vegetarian food to the children in the slums of Mumbai. He has also worked to establish missionary hospitals and eye camps, eco-friendly farms, schools and ashrams, an orphanage, and a number of emergency relief programs throughout India.
Radhanath Swami is the author of The Journey Home: Autobiography of an American Swami, and the title has been received well by the mainstream audience as well as ISKCON members. The Huffington Post and ISKCON News regularly post articles by Radhanath Swami.
H.H. Bhakti Charu Swami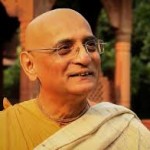 Bhakti Charu Swami is from a Bengali family and spent most of his early childhood in urban Kolkata. He met with Srila Prabhupada at the end of 1976 after a long and intense search for a spiritual teacher. This initial meeting resulted in Bhakti Charu Swami being assigned to translate the books of the Bhaktivedanta Book Trust into the Bengali language. He was immediately made responsible as the secretary for Indian affairs and within a few months, Srila Prabhupada gave him initiation. Soon thereafter, Srila Prabhupada awarded Bhakti Charu Swami the order of sannyasa. In addition to his official responsibilities, Bhakti Charu Swami continued to translate all of Srila Prabhupada's works, more than fifty volumes, into Bengali. Bhakti Charu Swami is an initiating spiritual master in ISKCON and has disciples all over the world.
He became a member of the GBC in 1987 and served a term as chairman from 1989-1990. Bhakti Charu Swami's GBC zonal assignments include Ujjain (Madhya Pradesh, India) and he is co-zonal secretary for Calcutta and Mayapur, West Bengal, and North Orissa and Puri. Besides the significant energy Bhakti Charu Swami has spent on the development of the Mayapur project, the Hare Krishna movement's world headquarters, he has headed the establishment and the continuing development of a large temple project in Ujjain, where he spends significant amounts of time. Under his direction, more than 20,000 school children in Ujjain receive a daily meal and the program is expected to expand further. Another major accomplishment of Bhakti Charu Swami is the production of an epic biographical video series, Abhay Charan. Over 100 episodes illustrate the life of Srila Prabhupada and have been televised in India and other parts of the world.
ISKCON members are known to appreciate Bhakti Charu Swami's gentle ways and sweet singing of devotional songs and mantras. He assisted many devotees in understanding the etiquette of Gaudiya Vaishnavism as one of the original teachers at the Vrindavan Institute for Higher Education (VIHE) and continues to educate ISKCON's members.
H.G. Tamohara Prabhu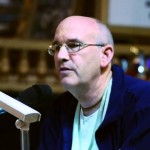 Tamohara Prabhu has a doctorate in educational psychology and has been a faculty member and administrator in several graduate schools and universities, including dean of the Illinois School of Professional Psychology. Tamohara Prabhu and wife Mantrini Devi Dasi first saw the Hare Krishna devotees chanting at a rock festival, after which they were inspired to purchase the Bhagavad-gita As It Is, the Radha Krishna Temple album, Krishna posters and incense at their local bookstore. They joined the ISKCON Chicago temple in 1972 and were initiated by Srila Prabhupada nine months later.
Tamohara Prabhu has been involved in ISKCON leadership for many years. In addition to services of temple president, BBT manager and director of two gurukulas, he served as the director of the ISKCON Child Protection Office and has been a GBC member since 2006. His current zonal responsibilities are in the southeast United States, including Alachua, New Vrindavan, Atlanta and other temples. He has many years of experience counseling devotees and regularly conducts seminars in grihastha life, child protection, communication and leadership training. He and his wife currently reside in Alachua, Florida with their children and grandchildren.
H.G. Laxmimoni Mataji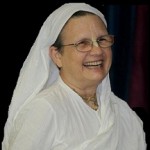 Laxmimoni Mataji was initiated by Srila Prabhupada in 1969. She has a B.A. in psychology. She has been involved in ISKCON educational projects since 1974. She presently assists with the organization of the ISKCON Leadership Sanga, works with the GBC Strategic Planning Team, and travels globally offering various seminars and classes.
H.H. Bhakti Vijnana Goswami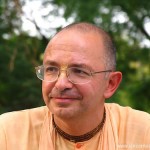 Bhakti Vijnana Goswami was born in Tashkent, former Soviet Union. He took to spiritual life in 1980, during a difficult time during the communist era in the former Soviet Union, when the National Security forces were harassing any type of spiritual practitioner. Despite these obstacles, Bhakti Vijnana Goswami – a scientist, a Moscow State University graduate and postgraduate student at Institute of Molecular Biology – decided to experiment with the Hare Krishna mantra. To his great happiness, it moved him profoundly. He is a disciple of Radhanath Swami and resides primarily in Moscow, Russia, working tirelessly towards the building of a monumental temple there. He travels widely throughout Russia sharing Krishna consciousness.
Since 1997 Bhakti Vijnana Goswami has acted as a member of ISKCON's Governing Body Commission and since 2005 has served as one of the initiating gurus of ISKCON. His zonal responsibilities include Georgia (CIS) and Israel. He serves as co-zonal secretary for Eastern and Western Siberia, Northwest CIS, Ural Region, Moscow, Southern, Central Region, CIS, Golden Ring, Armenia, Far East and also co-GBC for North and South Korea.
On July 1, 2010 the Council for Public Awards of the Russian Federation awarded Bhakti Vijnana Goswami a medal "for professional and business reputation" third degree, "for his contribution in strengthening Russian-Indian friendly relations, and for his contribution to the popularization of the spiritual-cultural literary heritage of India."
H.G. Kaunteya Prabhu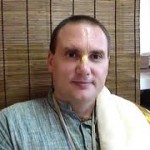 At present serving as:
Co-Minister – with HH Jayapataka Maharaja, his diksa-guru – of the ISKCON Congregational Development Ministry
Co-Chairman – with HG Gopal Bhatta Prabhu – of the GBC Organizational Development Committee
Member of the GBC Strategic Planning Team
Member of the Strategic Planning Committee for Mayapur
Born in Rome, Italy, in 1963; he joined ISKCON in May 1980. After years of full-time book distribution, he moved to India, where he is based for more than twenty-seven years and where he served, among other things, as Gurukula teacher in Mayapur (Bhakti-sastri, Bhakti-vaibhava, etc.). He regularly teaches at the ILS (ISKCON Leadership Sanga) and at the GBC College.
Kaunteya das is also a certified mediator and has practiced conflict resolution in several countries.
Kaunteya das has a PhD in Indovedic Psychology and serves as distance-learning professor of Indovedic Philosophy & Psychology at the Bhakti Yoga College (Florida, USA), overseeing students from various continents. (www.bhaktiyogacollege.com)
He authored/compiled the following books on congregational development: the Bhakti-vriksha Manual, the Book of Icebreakers and Super Sunday. He has travelled to dozens of countries presenting seminars and workshops on principles and ideas for building vibrant Vaisnava communities. (www.iskconcongregation.com, www.bhaktimarriages.com)
H.G. Gauranga Prabhu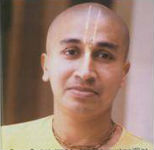 Gauranga Prabhu, a disciple of H.H. Radhanath Swami, graduated from IIT Bombay in 1993; his interest in Krishna consciousness dawned during his college days. He moved in as a full time preacher at ISKCON Chowpatty. Besides conducting Bhagavad Gita seminars in all prominent engineering colleges, medical colleges and management institutes, he also counsels on stress management in several co-operative organizations for senior level managers. Featuring on the popular "Atma", a daily spiritual discourse on Star TV, he airs the timeless message of the Gita to millions in India and the U.K.
H.G. Rupanuga Prabhu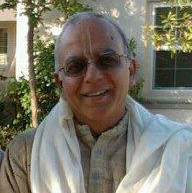 Rupanuga Prabhu, a disciple of H.H. Bhakti Charu Swami, is a professor and the holder of the James L. and Lynne P. Doti Chair in Operations Management at the Argyros School of Business & Economics, Chapman University, California, USA, Ph.D from Drexel University, Philadelphia, USA. Serving on the Board of Directors of ISKCON of Escondido, Co-President, ISKCON Laguna Beach. He is the president of the GBC College.